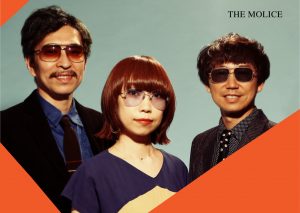 [  Hirofumi Katsumoto"Paro" (Drum), Rinko ( Vocal & Rhythm Guitar ) ,  Yuzuru ( Guitar )   ]
【About THE MOLICE 】  ※ English follows Japanese
 東京から世界へ。様々なアイデアを発信中の音楽グループ  THE MOLICE。
2007年結成。結成半年で国内最大級の音楽フェスティバル「サマーソニック07」に出演。THE MOLICEのサウンドは、「VERY Original」という言葉とともに結成当初から国内外の注目を集める。
 結成から2年でロンドンツアーを敢行。その後もアメリカ・アトランタのアニメフェスティバルやベトナムでの音楽フェスに出演する。フランス地上波TV局や東南アジアではMVが繰り返しオンエアされた。アメリカ、ヨーロッパ、アジアなどの世界各地のラジオ局でも楽曲がオンエアされ続けている。
 1stアルバム『Doctor Ray』で、アメリカのレーベルGOOD CHARAMEL RECORDSのオーナー、ロビー・テイキャック氏(Goo Goo Dolls)に認められ契約、全米デビューを果たす。現在、5枚のアルバム全てがアメリカ・カナダ・メキシコでリリースされている。
 常に新しいことに挑戦する活動を行い、2013年には周囲に先駆けてクラウドファンディングによるアルバム制作にチャレンジ。世界に向けてアルバム制作資金を募り、その結果日本を含めた10カ国を超える世界中のファンからのサポートを得て、4thアルバムを制作した。
 2015年、メンバー交代を経て、渡米。アメリカ・N.Y州バッファローにて、ロビー・テイキャック氏プロデュースにより5thアルバムのレコーディングを行う。 2016年、再び渡米し新作のレコーディングを行う。2015年、2016年にはアメリカ・バッファローで開催されたロビー氏主催のアートフェスティバル「Music is Art 」に出演。2017年2月に、関西ツアーを行う。
 迫力あるパフォーマンスと、オルタナティヴ/ポストハードコア的なサウンドを武器に、世界を舞台に精力的な活動を続けている。
THE MOLICE is a very active Rock'n Roll band from Tokyo to the world.
Formed in 2007 and within 6 months, THE MOLICE took the stage at Summer Sonic, one of Japan's biggest music festivals.
THE MOLICE keeps DIY spirits and Indies style for their Rock'n roll that they believe.
Their one and only originality sound and music videos are getting noticed various media from the world.
Radio stations in the states, Europe and Asia loved THE MOLICE songs and still keep to broadcast.MOLICE music video also have been broadcasted in France etc.
THE MOLICE made USA debut through an American label GOOD CHARAMEL RECORDS which is owned by Robby Takac(Goo Goo Dolls) and played at festivals in the States(Atlanta),Vietnam. THE MOLICE acts all over the world.
In 2013, THE MOLICE  released 4th album "Resonance Love", the new album in two years, The album made through Fanbo- a crowd funding support. They received strong support for making new record from not only Japan,The States,Canada,England,,France,Spain,Russia,Austria,Norway,Sweden,Australia…all over the world.
THE MOLICE releases long-waited their 5thalbum to the world in summer 2016.
The album recorded at GCR Audio in Buffalo,NY,The United States in 2015.The album produced by Robby Takac and THE MOLICE played his art-festival"Music is Art".
THE MOLICE toured in US again for new album recording and to play "Music is Art" again.
In Feb 2017,THE MOLICE has toured in Osaka, Nagoya,Kyoto.
THE MOLICE keep thier activity with the overwhelming performance and the sounds like Alternative / Post-hardcore.