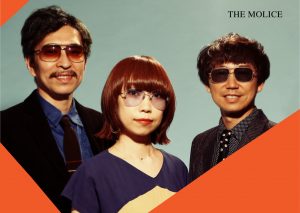 [  Hirofumi Katsumoto"Paro" (Drum), Rinko ( Vocal & Rhythm Guitar ) ,  Yuzuru ( Guitar )   ]
【About THE MOLICE 】  ※ 日本語は英語の下にあります。

THE MOLICE is a very active Rock'n Roll band from Tokyo to the world.
While many Japanese bands are the product of management hired producers and stylists, Molice are the band's own unique brew of rock. Drawing inspiration from 70's punk's DIY spirit, 80's new wave stylish power pop and 90's unchained indies guitar rock, the band has hammered out their own sound. Their name draws on a number of musical inspirations as well- the Police, and the "mo" of Jim Morrison, Mo Tucker, and Morissey.
The band cites the Pixies, Police, and Doors as their main inspirations, but incorporate elements of goth, classical, dance, shoegaze,and post-hardcore as well. Listening to the range of music on albums challenges fans to completely define their style.

The band was formed in 2007 by the charismatic female singer/rhythm guitarist Rinko, high tension guitarist Yuzuru. Just 6 months after coming they were invited to play Summer Sonic, one of Japan's biggest festivals.After a year of polishing their material playing Tokyo's numerous rock venues, the band made their recorded debut in November 2008 with their album 'Doctor Ray'. The album quickly drew attention amongst Japanese rock fans, and surprisingly, substantial acclaim from abroad. The singles "White Vertigo", "Ms. Panic" and "Headphone" found their way into rotation on numerous US college radio stations.  Their CD sold briskly in the States via CD Baby and their music video "Headphone" received airplay on Japan's Space Shower and France's NOLIFE TV programs. In the wake of their debut album they also received their first offer to play abroad, and did a short UK tour in late 2009.

Their sophomore effort 'Catalystrock' was released in March 2010, with the lead track "Monster" and "Romancer", which had a clever video shot in Shinjuku, drawing the most attention. Soon after its release, Molice made their TV debut, appearing on Fox Japan's "Backstage Pass." They were also again invited overseas, and played Vietnam's C.A.M.A. festival and headlined Atlanta's Anime Weekend. Their videos also helped draw attention to their music, and picked up play in Japan and in far away places like Malaysia and the States. Their album also caught the attention of Good Charamel Records (owned by Robby Takac ,Goo Goo Dolls), who released the album in North America.
Since their beginning, the band has had a high percentage of foreigners amongst their fans. Singer/ lyricist Rinko sings primarily in Japanese, in melodic rock style, not in the high and whiny voice that is typical of much Japanese pop. Her lyrics are often romantic, but sometimes also venture into sci-fi. While she is a classically trained pianist, on stage she supplies big chunky rhythm guitar.

Their East/West hybrid sound has a wide appeal being both catchy and edgy. They continue to gain fans worldwide, and have been profiled on MTV's Iggy site, received radio airplay in the Philippines and Australia, and were invite a second time to play in Vietnam, where their videos have also appeared on Yan TV.
Meanwhile Molice have been writing and recording their much anticipated third release, 'Neugravity' in 2012. The album retains their raw rock sound punctuated by clever hooks, and lyrically goes deeper sci-fi, like Blade Runner.
In 2014  THE MOLICE release their 4th album "Resonance Love" through crowd funding support. They received strong support  from not only Japan,The States,Canada,England,France,Spain,Russia,Austria,Norway,Sweden,Australia…all over the world.
In 2015 Good Charamel Records released CD only version including 2 exclusive remixes entitled "Resonance Love + ".
"RiverS" video was painted by photographs of rivers delivered from fans all over the world, and it has become a wonderful work that matched the beautiful sound.
In Summer of 2015 they have made great changes. New drummer Hirofumi "Paro" Katsumoto joined THE MOLICE. And the band sound evolved more powerfully!
The MOLICE released their album "5" on  June 11th, 2016 worldwide. The first album the band recorded outside of Japan, The North American version of the album includes a bonus track, a cover of "Bring on the Night" by The Police.
In late 2016 THE MOLICE finished tracking an EP entitled "SIGNS" which was September 8, 2017 and visited the US for a string of dates across the Northeast promoting this new release. Signs was released physically Worldwide December 1st. They have described "SIGNS" as the pop side of THE MOLICE.
Many videos are also made from this work. Each video are showing their playfulness, performance style, Si-Fi, and The MOLICE's unique world view.
The band spent the Summer of 2017 recording a new album in the US for release in 2018.
And in 2018' Spring THE MOLICE back to US for touring again.
THE MOLICE keep their activity with the overwhelming performance and the sounds like Alternative / Post-hardcore.
"Molice aims for being something out of the film Blade Runner, with a new wave, rock'n'roll sound."– Time Out
"Taking in the angular riffs of the Pixies, the dancefloor grooves of CSS, the odd Johnny Marr guitar flourish, dry female vocals and little pinches of shoegaze, rockabilly and soul, Molice's sound is at once complex yet spare. Their new album, Catalystrock, is darkly thrilling." – Metropolis
"Influences range from The Doors, Pixies and The Police to 1950s rock'n'roll, with the diverse elements fusing nicely together to form their distinctive solid sound." – The Japan Times
"A fresh, fierce, fun sound." – Neo
"With lyrics and music created by frontlady Rinko, MOLICE has created a unique sound that is quickly gaining them popularity." – JaME

東京から世界へ。様々なアイデアを発信中の音楽グループ  THE MOLICE。
2007年結成。結成半年で国内最大級の音楽フェスティバル「サマーソニック07」に出演。THE MOLICEのサウンドは、「VERY Original」という言葉とともに結成当初から国内外の注目を集める。
 結成から2年でロンドンツアーを敢行。その後もアメリカ・アトランタのアニメフェスティバルやベトナムでの音楽フェスに出演する。フランス地上波TV局や東南アジアではMVが繰り返しオンエアされた。アメリカ、ヨーロッパ、アジアなどの世界各地のラジオ局でも楽曲がオンエアされ続けている。
 1stアルバム『Doctor Ray』で、アメリカのレーベルGOOD CHARAMEL RECORDSのオーナー、ロビー・テイキャック氏(Goo Goo Dolls)に認められ契約、全米デビューを果たす。2010年には2ndアルバム『Catarystrock』、2012年には『NEUGRAVITY』をリリース。その独自のサウンド、SF的な世界観は海外からも高く評価された。
 常に新しいことに挑戦し、2013年には周囲に先駆けてクラウドファンディングによるアルバム制作にチャレンジ。世界に向けてアルバム制作資金を募り、その結果日本を含めた10カ国を超える世界中のファンからのサポートを得て、4thアルバム『Resonace Love』を制作した。
 2015年、メンバー交代を経て、渡米。アメリカ・N.Y州バッファローにて、ロビー・テイキャック氏プロデュースによりレコーディングを行う。 2016年、5thアルバム『FIVE』をリリースするとともに、再び渡米しレコーディングを行う。2015年、2016年にはアメリカ・バッファローで開催されたロビー氏主催のアートフェスティバル「Music is Art 」に出演した。
2017年2月に、日本国内では関西ツアーを行う。9月には、6thアルバム『SIGNS』をリリースするとともに再び渡米し、NYCを中心に初のアメリカツアーを敢行、各地で大きな反響を得た。12月にはボーナストラックを含んだ日本盤『SIGNS』をリリースした。
2018年には、長期アメリカツアーと新作アルバムのリリースも予定されている。
 迫力あるパフォーマンスと、オルタナティヴ/ポストハードコア的なサウンドを武器に、世界を舞台に精力的な活動を続けている。